Is your bathroom feeling a teensie weensy bit cluttered?
Chances are you don't have enough storage. It's a well know psychological trick of mind that having a tidy, ordered space helps you feel relaxed and in control. Here we are talking about elements like a cabinet with drawers, shelves, rails, racks, baskets and boxes - anything that can help keep your stuff organised and out of sight. If you are working with a smaller space adding mirrors can make even the smallest bathroom feel light-filled and bigger.
There are lots of other tips and tricks to get your bathroom storage up to scratch - let's check some out.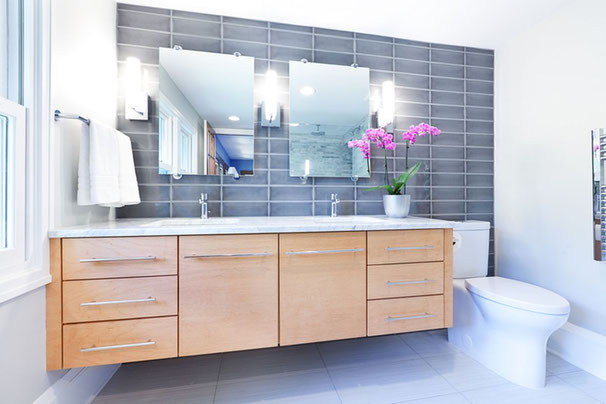 Planning your bathroom storage
When planning bathroom storage, there are a number things that you need to consider. First of all how many people use the bathroom and what you need to store. Most people need to take care of towels, makeup, toiletries and cleaning supplies - but you could have more.
Also consider the actual layout of the bathroom. You will want to place your built-in storage so that the items contained are easily accessible. The vanity is the largest single item of storage in the bathroom and is likely to hold things such as the hairdryer, makeup, and cleaning supplies. Ensure that it is the right size and configuration for your needs, with plenty of drawers and cupboard space.
As well as built-in storage, consider using freestanding storage such as freestanding storage such as shelving and boxes. This will give you flexibility in your bathroom design as you'll be able to move the storage to suit you.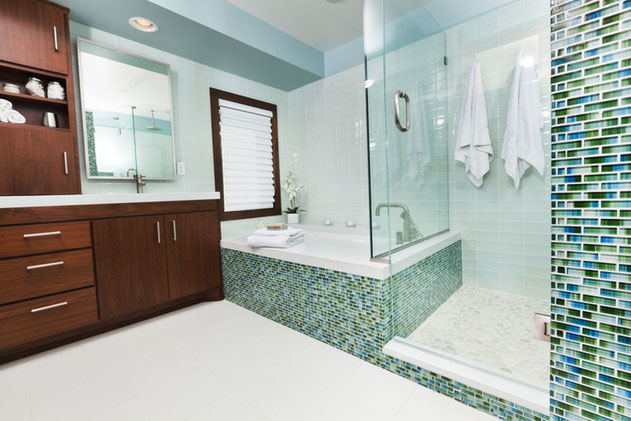 10 bathroom storage ideas
Need some inspiration? Here are 10 ideas to help you make the most of the space that you have in the bathroom:
Use bathroom accessories such as robe hooks and vanity shelves for items such as hairdryers and towels.
Use boxes or baskets that can slide into empty floor space such as the space underneath the vanity.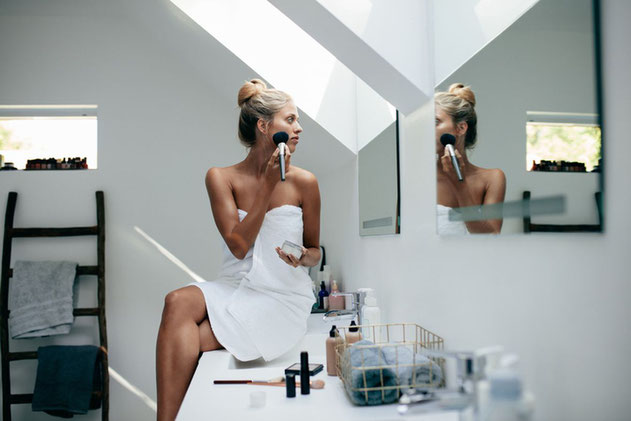 Recess cupboards and cabinets into walls to save space in small bathrooms.
Try a modular storage unit instead of a standard vanity as they can be fully customized to your requirements.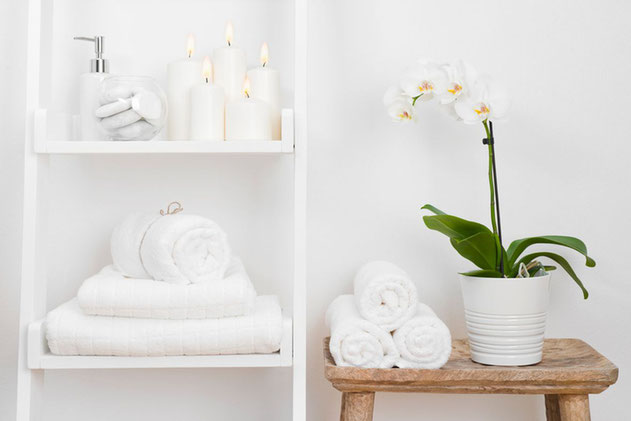 Use shelves on the walls, and in nooks and crannies.
Use bathroom shelving and cabinets for hidden storage.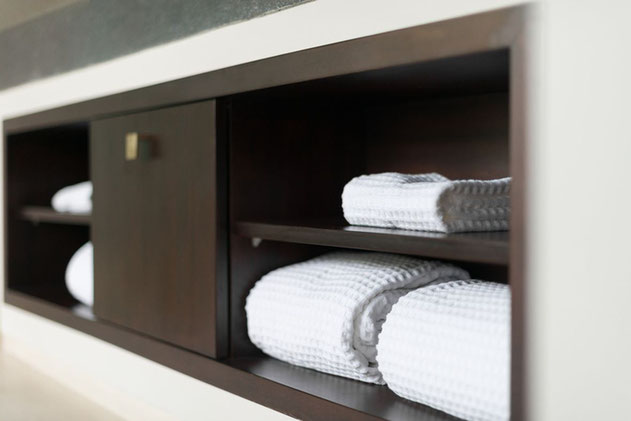 Place a cabinet or shelving unit over the toilet to take advantage of the "dead space" above it.
If your bathroom lacks draw or hanging space, invest in some do-it-yourself storage from IKEA. Their items are cheap, easily installed and multifunctional.
Try using non-traditional items for storage such as kitchen canisters, metal buckets or boxes, pencil holders, office bins, stationery trolleys, and so forth – just make sure that they are water resistant.
Choose the right vanity. Today vanity units can come with all sorts of accessories, including wire racks mounted inside the doors, pull out rubbish bins, pull out shelves, towel racks, and tilt-out drawers – all designed to help you access your stuff quickly.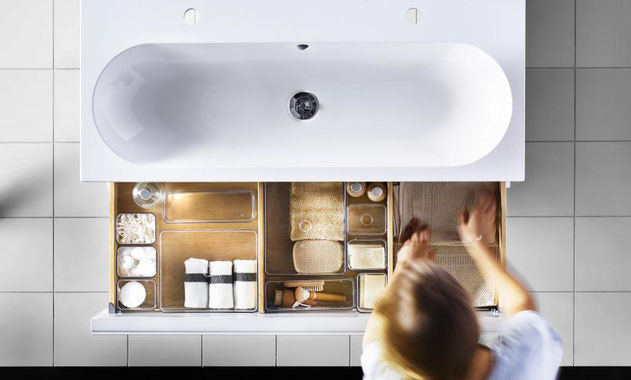 What to look for in a bathroom vanity
For maximum durability your bathroom vanity or cabinetry need to be made from water-resistant MDF (medium density fibreboard). Top end units may use solid timber but expect to pay for the privilege. Other specs you need to look at are your cabinet backs and drawers which should have solid bottoms/backs and use quality drawer runners. In terms of door hinges, definitely don't be tempted to skimp - they will end up sagging or will fail. Pay a little more and you should get many years of service from them.
How much does a bathroom vanity cost?
Bathroom vanities are range in price from:
$467 for a 900mm wall hung vanity with hidden handles
$849 for a 750mm floor standing console vanity
$999 for a 1500mm double bowl vanity
$1360 for a 1200mm wall hung vanity with integrated ceramic basin
Getting quotes for your bathroom storage project
If you are opting for custom made cabinetry you will need a qualified joiner, carpenter or builder. There are also dedicated bathroom renovators who can carry this work out for you. The best way of finding out the cost of your bathroom storage job is to get quotes from local bathroom specialists. This will give you a sense of what market rates currently are.
Need visual inspiration? Then why not browse our Bathroom Storage Ideas gallery for some ideas for your project.
---
Questions?
Contact Us For A Free Home Renovation Quote Today.